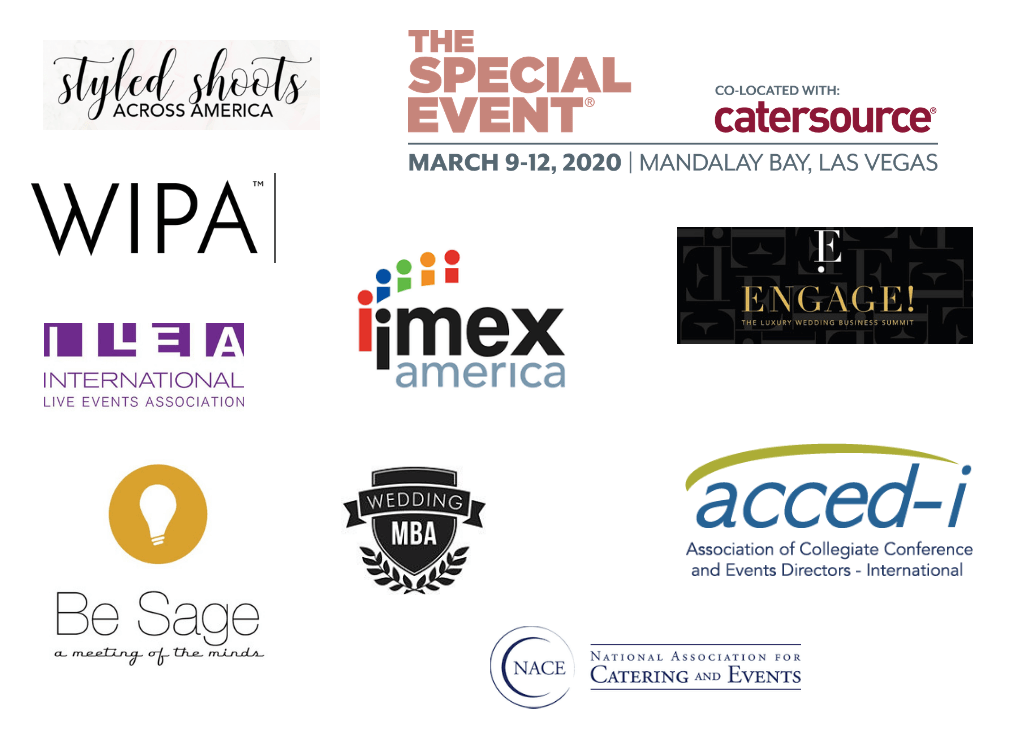 In the last ten years, the wedding industry has exploded with wedding conferences, workshops and general opportunities for continuing education. While it's certainly fantastic to have so many things to consider, you can quickly become overwhelmed with all of the options if you aren't careful.
So the question remains—which wedding industry conference is the best fit for me?
First, you'll want to revisit your current business goals, as well as look ahead to where you are going. Ask yourself:
What do I hope to get out of attending wedding conferences? In other words, what has to happen in order for this to be considered a success?
What wedding industry conferences have I attended in the past? Of those, what went well and what ended up not being a fit, and why?
Who am I hoping to meet at these conferences, and what do I hope it does for my company?
Next, it's time you review your options. Below is a brief outline of just a few of the events afforded to you in the wedding industry-
WeddingPro Workshops (Regional)
Run by The Knot + WeddingWire, these one-day (or half day) events are great for those simply looking to dip their toes into attending educational sessions. These are hosted throughout the US in a given year, and the speakers will rotate depending on the location. With this option, you'll want to pay close attention to who is speaking and how the day will run.
The bonus of the WeddingPro Workshop, especially if being hosted close by, is that it will have very minimal impact on your time and financial commitment. The downside is that you'll also be limited to just a handful of subject matters being explored.
Be Sage Conference
A personal favorite, Be Sage Conference is geared toward wedding and event professional veterans. The education, carefully vetted by Sage Wedding Pro's Michelle Loretta, speaks to the challenges faced by wedding and event pros who have been in business long enough to no longer need the basic 101 education often touted at conferences. The event details are thoughtfully curated and will certainly inspire.
There is also plenty of opportunity for mingling and networking- I myself especially loved the "fireside chat" style session the year I attended, when Michelle ran a talk on finances that encouraged quite a bit of interaction from the group. Best yet- Michelle pulls a mix of speakers from in and outside the industry, which nearly guarantees a mix of education not to be replicated anywhere else.
The Special Event Show + Catersource
I think it's safe to say that everyone has their eye on The Special Event Show and Catersource, as they will be co-locating for the first time together in Las Vegas. Typically hosted within 1-2 months of one another at the beginning of the year, these powerhouse conferences welcome thousands of event professionals from all around the global (although the primary audience in North America).
Larger conferences typically mean more educational seminars and a robust tradeshow, and these two do not disappoint. While Catersource does lean more on catering-focused education, the combination ticket for 2020 is bound to be the most popular option, so that attendees can go between the two with relative ease.
This is particularly a great fit for event professionals who focus on weddings, corporate and social events. The education is geared towards a mix of levels and you'll have ample time prior to the conferences to map out your schedule.
In addition to a number of industry networking events, one of the highlights will sure to be the ACE Awards/Gala Awards, which celebrates some of the best in the event industry. Expect some of the bigger industry associations and event brands to host ancillary networking events while in town.
NACE Experience
If you're a member of your local NACE chapter, then this is one conference not to miss. Hosted each summer around the US, NACE Experience offers a wealth of educational breakouts, strong keynote sessions and plenty of chances to connect with NACE members from here, there and everywhere. Don't let the name fool you- while there is a strong catering education track, the conference is careful to offer a diverse line up of talks covering everything from sales/marketing best business practices, trends, weddings and personal wellness.
What's particularly great about NACE Experience is that their educational team makes a concerted effort to select sessions that meet the needs of those 10+ years in the industry, as well as fosters education.
Wedding MBA
If you want to dive in feet first into nearly every wedding industry topic available to you, then consider attending Wedding MBA, hosted each fall in Las Vegas at the Convention Center. The ticket price is reasonable (just remember to invest early for the best rate), and the nearby accommodations allow for enough options at a variety of price points.
What's particularly appealing about Wedding MBA is that there are an enormous number of breakouts, allowing you to really customize your experience. Typically, a portion of the talks will be dedicated to specific fields in the industry- venues, planners, photographers, etc while the remainder are a mix of general sessions and keynotes.
In recent years, we've seen more associations and corporate brands offer additional opportunities to network off site, planning functions around the Wedding MBA schedule.
Engage Summits
On the other end of the financial spectrum is the Engage Summits, hosted 3-4 times a year domestically as well as internationally. The ticket price for 2020 has increased to $4,600 and you'll need to budget for airfare and the host hotel, which you're typically required to stay at during the conference.
Engage is all about luxury- and yes, the famous swag is as extraordinary as they say. Education is far more limited at Engage but with good reason as they focus heavily on opportunities to connect. The "surprise and delight" elements truly are remarkable- if your goal is to leave inspired so you can better serve your own clients, then this may be the place for you.
I find that Engage works especially well for vendors looking to connect with high-end, luxury and destination wedding planners, especially if you are a wedding pro who is able to travel (ie: I imagine it would be far more difficult to gauge an ROI if you were a venue in a region that's not necessarily regarded as a destination hot spot).
Bearing in mind the options in front of you, you'll then want to consider:
What areas of my business am I hoping to improve upon and which conference in particular can potentially be the right solution?
What sort of budget can I allocate for an upcoming conference?
Which conference attracts the type of attendees I'd like to network with?
Of the conferences I'm considering, who has educators (and education!) that I'm most interested in seeing?
Which conference locations appeal to me most?
From a financial standpoint, does it make more sense to invest heavily into one conference, or spread out and do a handful that cost less?
Do I need to consider a conference where I can potentially bring my team?
If you've thought it through and you are just not ready to commit, bear in mind that there are other continuing education opportunities to consider in the meantime such as:
Industry association events– NACE and ILEA host regular monthly meetings in their respective regions while WIPA hosts quarterly educational events, along with member-only gatherings. Many of the conference speakers do travel to these groups around the US, so it's a great way to get started and get to better understand the education that best resonate with you.
Podcasts and webinars– While there is no substitute for live events, you can certainly learn quite a bit from the wealth of wedding industry podcasts and webinars currently available online. If time is a concern for you, virtual education is something you can listen to while you're traveling or handling mundane, yet necessary, tasks.
Online summits– Instead of "listen as you go" education through webinars and podcasts, online summits run similar to a conference in that they have an agenda that they adhere to. Oftentimes they are low to no cost, and will charge you if you'd like to purchase a recording that you can revisit on your own time.
Masterminds, either formal ones you invest in or an informal one you put together with your peers, can be a great way for you to learn from your peers (and them to learn from you!). Some Masterminds are in person while others live online in Facebook groups. If you are careful about who you bring into the mix, Masterminds can be a fantastic way to stay accountable and learn in a collaborative setting.
Once you have committed to a wedding industry conference, it's going to be imperative that you maximize your time there, as well as track your successes, along with any missteps. The good news is that you have a number of events available to you, and with the right amount of research and due diligence, you'll surely land on the right fit.