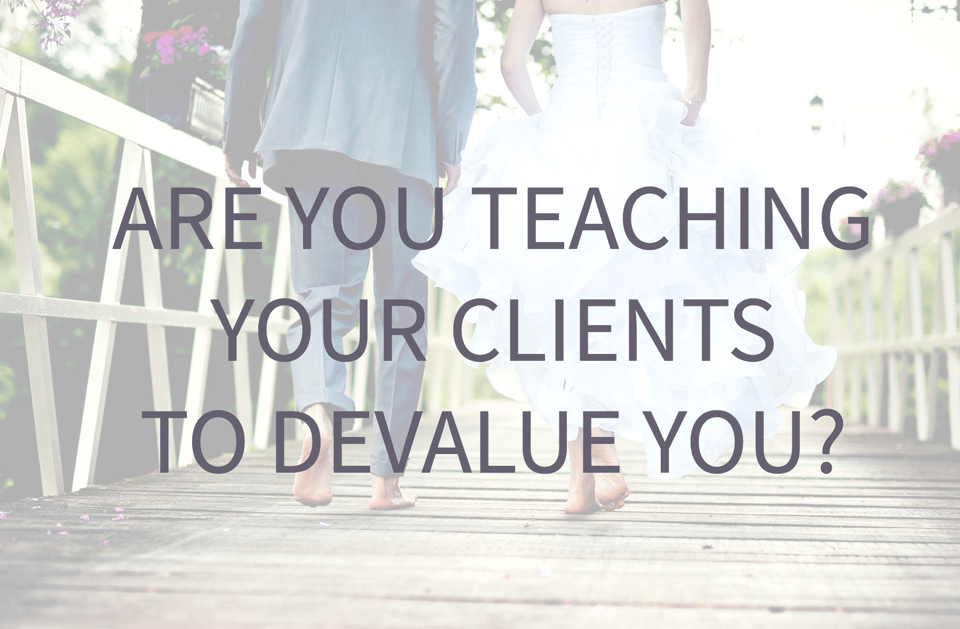 Chances are, you're making these common mistakes that are secretly sabotaging your efforts to book great clients. What's worse, you may be teaching an otherwise Dream Client to behave like a bad client.
If any of these sound familiar, keep reading, and you'll learn what to do instead.
#1: Not Telling Them What You Do
The most common complaint I hear from wedding business owners is that their clients don't value what they do. Remember this:
Your clients only value what they think you do (which bears little resemblance to what you really do), and what you tell them you do.
Solution: Tell them what you do behind closed doors and why it benefits them. Don't assume they know what you do – they don't. Don't assume they care – tell them why they should.
I made that same mistake and didn't hire a wedding planner until we were in the eleventh hour after having a freak out moment of, "I don't want to manage my own wedding" because I thought I knew what planners did…but I didn't.
So tell them what you do to help them create the wedding of their dreams. It will help them understand your value and why they should hire an expert for the most important day of their lives.
#2: Giving Discounts
While you may think that you're being kind/flexible/nice/smart/etc by giving a discount, here's the truth:
Discounting only sets an expectation for future discounts.
If you're quick to discount your services, it's like telling your client, "I don't value my services enough to stand by my pricing." Is that the message you want to send?
Solution:  Instead of giving a discount, build value with the client so they don't ask for one. But if they do, here's one of the best insider sales tips you'll ever receive:
ADD something to your services, and only do it if your client gives YOU something in return – like booking on the spot.
#3: Sounding Like Every Other Vendor
If you don't know what makes you stand apart from other wedding professionals in your area, then you're giving your client no alternative but to choose a vendor on price.
When all vendors sound alike, clients will almost always choose the best price.
Solution: Know what makes you different and stand out. Do your research. Talk with your past clients. I share an easy way to get the exact words to describe what makes you different in my program.
#4: Giving Pricing Before Building Value
Many potential clients ask for pricing right out of the gate. If you give it to them, you won't get a chance at bat. Why?
You haven't built value for your services. Giving them pricing right away forces them to make a decision on price. Why is building value so important to do first?
Because the more value you build, the more money they'll pay.
Solution: Don't give any pricing until you've had an opportunity to build value with your client, understand their challenges, expectations, and what benefits they want to experience.
If you follow my suggestions, you'll not only win more clients, but they'll value you more, which means they'll pay you more!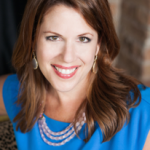 Maria Bayer is the creator of " Irresistible Selling" – an online group coaching program she designed to help creative entrepreneurs book dream clients, grow their business and design a life they love.
Maria teaches the authentic selling and mindset strategies that helped her triple her income in less than a year, and go on to win over $25 Million in sales from companies like Target, Best Buy, Ulta, Office Max and Hyatt.
She also leads a private Facebook Mastermind group of talented creative business owners called Learn Collaborate Flourish. Maria is a national speaker, and has authored and co-authored several Kindle books, and her articles have been featured throughout the creative industry.
********
Irresistible Selling Boot Camp is OPEN for Enrollment!
If you're getting leads and you're just not closing them, or they're only concerned about price and don't see the value of what you're offering, I'd like to invite you to join Irresistible Selling Boot Camp. You'll not only book dream clients (many on the spot), but you'll learn how to build value and forever get paid what you're worth. Doors close Friday, June 24 at midnight CT.