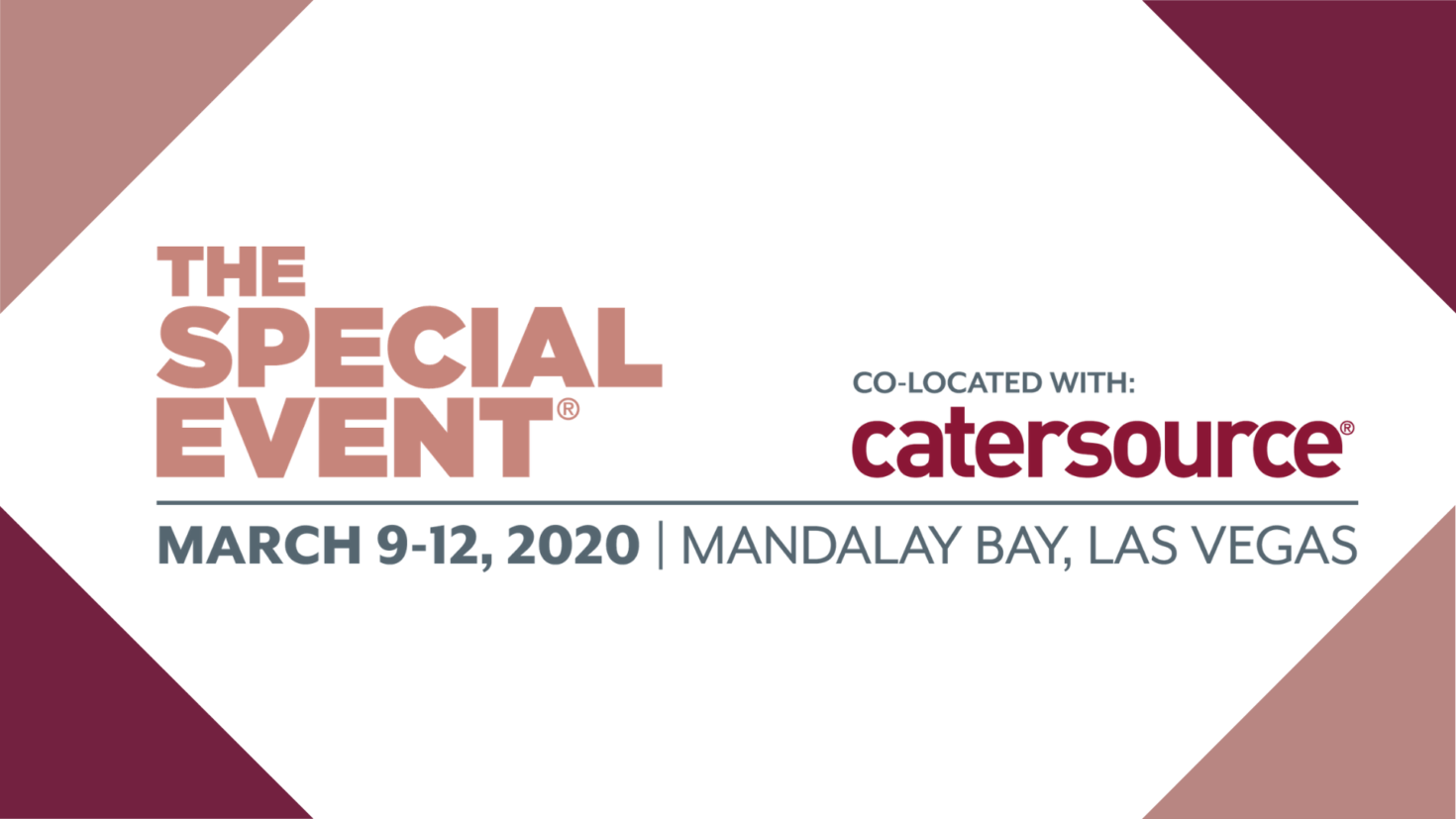 Catersource and The Special Event Show are just around the corner in March. Want to make sure you make the most out of the experience? Read on for my top advice for making the most of your time there.
About these Events
The Special Event Show and Catersource are two of the most anticipated conferences each year. Typically scheduled within 1-2 months of one another in the first quarter of the year, now they are co-located over the same dates in Las Vegas at Mandalay Bay.
In addition to an extensive trade show, you'll find inspirational keynotes, a wealth of educational breakout sessions and showcasing events, along with one of the top industry award celebrations to cap off the week.
Education tends to be a diverse mix of options meeting the needs of event professionals no matter if you are strictly focused on weddings, or service both social and corporate events.
How do I know The Special Event show and Catersource are a fit for me?
Whether or not the conferences are a fit, is truly up to you. As you begin mapping out the options for conference season, it will be wise to revisit your business goals and ask the ever-important question- what sort of ROI am I expecting in order for this to be considered a success?
You'll want to be mindful of the budget you can set aside, as well as take a good long look at the education to make sure it's a fit for any expertise gaps you are looking to fill.
One of the best things you can do is reach out to fellow, trusted colleagues who have attended to see if they are willing to share contact. If that's not possible, consider posting in an industry Facebook group to see if anyone would consider discussing their experiences.
Which ticket should I purchase?
This year, there are a number of new options when registering so it's essential to read through the choices before making a final decision. If you've reviewed the education at length and have interest in both conferences, then the combined education ticket will be your best bet. There is also the option to attend one conference over the other, with a la carte pricing for some of the major events.
If you're looking to get a bit more creative with your budget, consider the Hands-on-Hundred ticket, available to the first 100 people who register. This will allow you admittance to either TSE or Catersource, the Exhibit Hall, Opening General Session, the Hot List and Connect Live for only $500. In exchange, you will be asked to volunteer at the conference for (2) 5-hour sessions, a small price to pay for a deeply discounted admittance rate.
How long should I book my travel?
The festivities begin Monday night with TSE Connects and then the education gets started first thing Tuesday morning. Your best bet is to bare minimally arrive by midday Monday to give yourself time to check in and freshen up. If you're able to get away earlier, then consider arriving on Sunday so you can get on time (if applicable) and rest up before the busy week.
This year with the co-location, the conference is going to run longer. Education sessions will take place through the end of the day Thursday so you'll want to make plans accordingly by either catching a late flight on Thursday, or heading out Friday morning.
Bear in mind, if you're coming from the East Coast, there tends to be a gap in time at McCarran airport, where you'll find plenty of flights home in the morning, and then very few (if no) options until late evening. With that, if you do decide to wait until late Thursday night, consider keeping your hotel reservation through Friday AM so you have the chance to freshen up in your room after a long day.
Where should I stay?
Las Vegas is home to a practically endless options of hotels and accommodations but for this particular set of conferences, you're going to want to stay on site at Mandalay Bay. The conferences are offering negotiated rates and while neighboring properties seem like a quick hop, skip and jump away, you're going to find the travel time considerable.
Mandalay Bay is also not on the monorail line and you can expect a lot of push back in Las Vegas when using ride share options such as Lyft and Uber (fun fact- most hotel properties won't allow pickups in the front of the hotel for ride share so you may end up spending more time trying to figure out where your car is). To keep things easy, consider staying close by to ensure you don't miss any of the action.
About Transportation
In Las Vegas, you'll find limited reasons to need a car, so skip the rental. Taxis and ride share options are abundant but, as noted above, the city isn't terribly Uber/Lyft-friendly.
Staying Organized with Travel
Whether you are going on your own or bringing a team, consider adding all of your travel plans to an app, such as TripIt. You'll have one spot to easily access all information, and you'll also have an option to allow others to view/edit the plans.
What to Wear
The majority of the conference is business casual while speakers tend to dress a bit more formally. If you are registered for showcasing events, be sure to revisit dress code requirements for each to ensure you've packed accordingly.
What to Pack
Expect Las Vegas weather in March to be in the 60's and low 70's during the day, and much chillier (30's and 40's) in the evening time. A light jacket never hurts and given the marathon pace of the conference, you'll also want to consider comfort with what you're wearing day to day.
A portable charger is a must- many of the rooms may include a partial classroom style set, allowing you to work more freely on a lap top. Plugs will be few and far between so it's far easier to set yourself up so you can simply continue to charge at your seat.
The conference days will be long so you'll want to be mindful of how you're carrying everything you need on site. Personally, I found Timbuk2 backpacks to be a game changer. They allow you to distribute the weight evenly on your back, and you'll find it much easier to move throughout the conference.
Looking to upgrade your tote but don't want to break the bank? Bag, Borrow & Steal can be a fun option for those looking for a stylish upgrade temporarily.
Prepping for the education
The great news is that there is a robust schedule of educational keynotes and breakouts, outlined online. Take advantage of this by mapping out what you plan to do in advance. While you can certainly make changes on site, it's best to come into it with an idea of what you'd like to do, to ensure you are maximizing the opportunity.
If you are coming with a team, then this is going to be an essential step. Typically, I carve out time about 30 days prior to the conference and ask everyone to map out their idea educational schedule. I'll review each, making sure that there aren't too many redundancies and that they've selected sessions with speakers that typically rate well. We'll discuss any adjustments and then move forward with setting up a Google Spreadsheet with everyone's scheduling on it.
Not quite sure which speakers and topics are the best fit? Consider giving a listen to the new Catersource podcast, which interviews many of the speakers you're going to see on stage.
How can I speak at one of the conferences?
One of the most common questions I get asked as a TSE/Catersource speaker is what path I took in order to become a speaker at these particular conferences.
The very best thing you can do to start is to attend- get a feel for the type of education they offer, along with the speakers that they book. Start putting together 2-3 topics with the conferences in mind, and hit the local circuit to test the waters.
Submissions take place in the spring/summer, so you'll want to catch the submission guidelines as early in the process as possible to ensure you have plenty of time to map out the opportunity. If this is your first go around, consider creating an industry panel with relevant, timely content to try and get your foot in the door.
Catersource and The Special Event Show are two of the most widely anticipated industry events of the year. With the above tips in mind, you'll be able to maximize your investment, while also having a memorable time.