2018 International Wedding Trend Report – Call For Submissions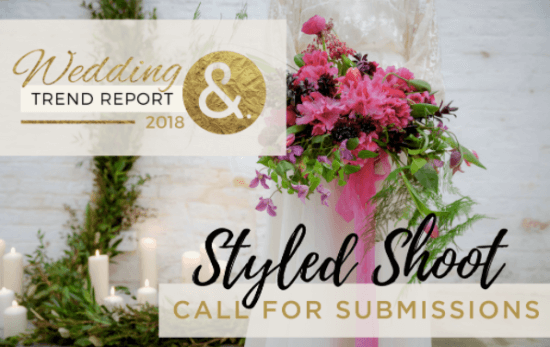 The annual International Wedding Trend Report will be released at the start of engagement season and they're eager to share your inspiration shoots with readers globally. Each year a hand-selected group of stylized shoots are selected to complement the Report, which includes insight from top wedding professionals throughout the world.
This year wedding editor Sara Burnett of Burnett's Boards will serve as the judge. The winner will win a coveted spot on Sara's editorial calendar with a feature dedicated to their shoot.
So what are they looking for? In short, what's going to be BIG in 2018. Think fresh and inspiring details that get you excited for next year.
Please email the following to martha@weddingacademyglobal.com no later than September 1st, 2017:
A link to a selection of 50-75 downloadable images from your favorite shoot
A comprehensive list of wedding professionals involved in the shoot- to include their name, URL, Facebook and Instagram handles
A brief narrative on the shoot
If you are not the photographer, then we'll need a brief email from the photographer stating you have their permission to submit the images
Please note that styled shoots can be previously published work.
Questions? Please contact martha@weddingacademyglobal.com.
Good luck!

Meghan Ely is the owner of wedding marketing and wedding pr firm OFD Consulting. She is the exclusive wedding pr blogger for The Knot, a WeddingWire expert and is a highly sought after speaker in the wedding industry. She loves ruffle table runners and Royal Wedding Tchotchkes. To learn how OFD Consulting can assist you with your wedding marketing and wedding pr, please contact us today.
---
Posted on:
Topics: wedding pr
Tags: wedding marketing
Contact Information
Phone number:
(804) 543-6400
Email address: