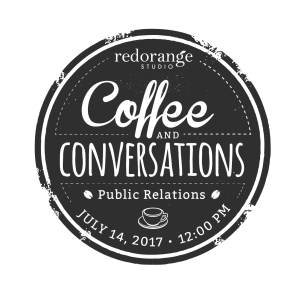 I'm excited to share that I'll be the guest speaker for the next installment of Coffee and Conversations, hosted by RedOrange Studios. I'll be covering some of my tried-and-true PR strategies, as well as sharing my favorite free and low-cost PR tools – you won't want to miss it. 🙂 For more information about the topics we'll be discussing, check out the event page.
Dying to join? Complete the registration form here!

Meghan Ely is the owner of wedding marketing and wedding pr firm OFD Consulting. She is the exclusive wedding pr blogger for The Knot, a WeddingWire expert and is a highly sought after speaker in the wedding industry. She loves ruffle table runners and Royal Wedding Tchotchkes. To learn how OFD Consulting can assist you with your wedding marketing and wedding pr, please contact us today.