We're Hiring!
OFD Consulting LLC is an award-winning boutique agency that focuses exclusively on the wedding industry. We're expanding and now on the hunt for a full-time publicist to work with us in our Richmond office, located in the West End.
 The ideal candidate will have an equal love (dare we say obsession?) with media relations and weddings. You don't necessarily have to be a cat or dog lover, but we ask that you're open to indulging us on occasion by watching cute videos of our pets. Must have a strong opinion on the appropriateness of messy buns as it relates to Meghan Markle's ascension into the royal family. Enthusiasm for podcasts is a plus.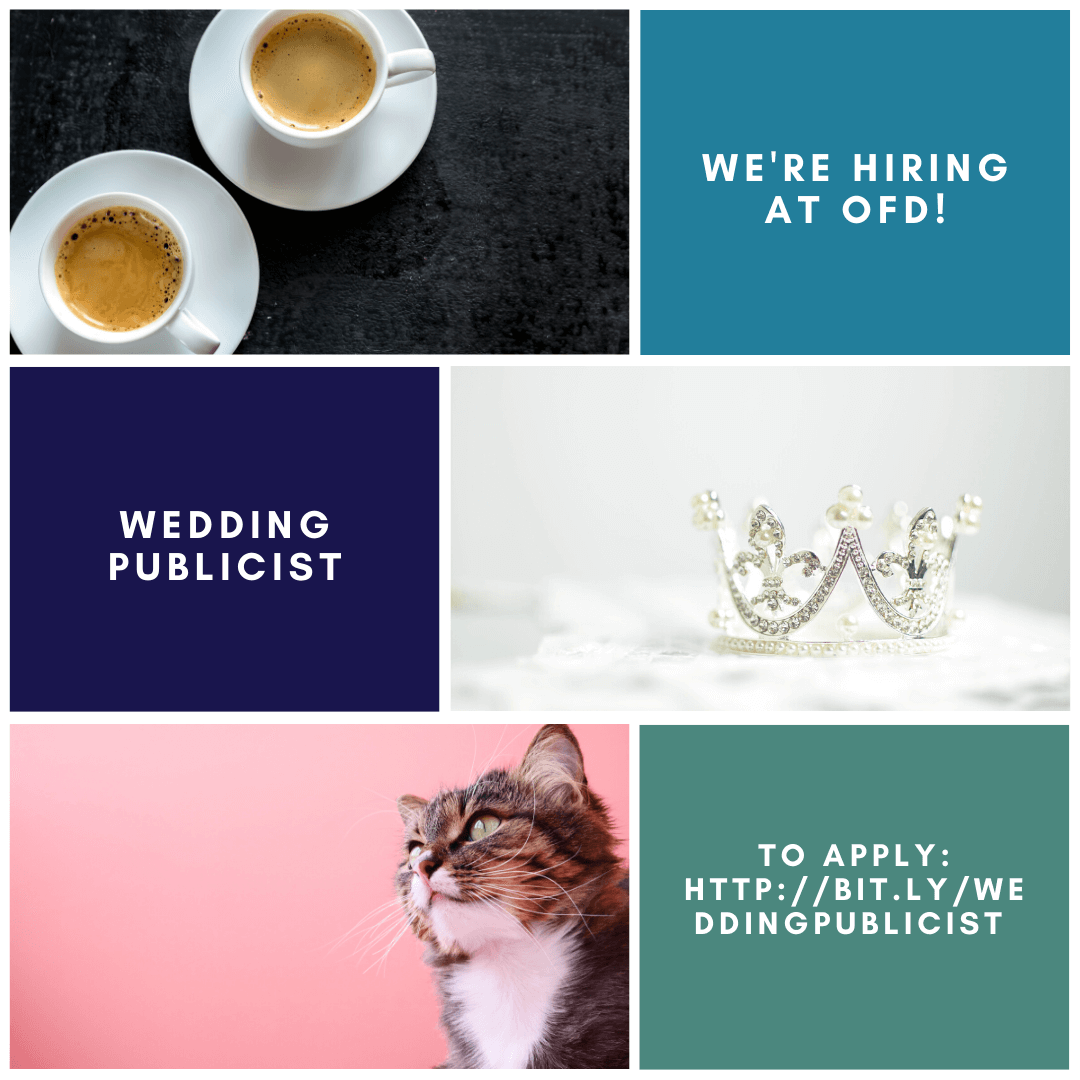 DUTIES
The wedding publicist will work directly with the team to assist with day-to-day execution of all public relations activities.
Responsibilities will include, but are not limited to:
Serve as the day-to-day client contact and lead for multiple clients, all top tier wedding brands in the industry
Real wedding submissions on behalf of clients
Pitch and secure media coverage for clients
Create content- quotes, guest articles, on behalf of clients
Support the director with the creation and execution of PR plans
Track editorial deadlines
Monitor wedding trends and news
ELIGIBILITY
Eligible participants must reside in Richmond, Virginia, and possess a bachelor degree in public relations or a complementary discipline, with 1-3 years' work experience preferred. The candidate need not be from the event industry background but preference will be given to those with a working knowledge of the hospitality industry.
Candidates must possess strong communication and organizational skills, as well as are creative and have the ability to work independently.
SKILLS
The best candidate is a driven, organized and detail oriented individual who values on the job experience. An understanding of marketing and public relations is preferred and strong writing skills are required.  Candidate must take direction well, although the opportunity to be creative will be prevalent. Public Relations is often a fast-paced environment so the ability to think quick and "on your feet" is a huge bonus.
Proficiency with Mac OS, Microsoft Office (specifically Word and Excel) and Social Media Management (Instagram, Facebook, Blogging) is a must. Also, a proficiency in WordPress would be helpful.
Interested? We'd love to hear from you:
http://bit.ly/weddingpublicist