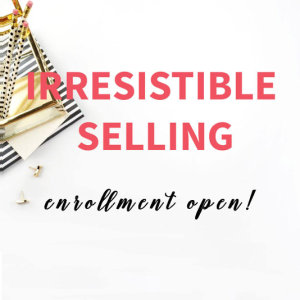 Irresistible Selling is an online sales program designed for wedding business owners to learn proven authentic sales strategies to book more clients you love – consistently – and get paid what you're worth. You'll learn how to:
• Book dream clients effortlessly, without feeling pushy or sales-y.
• Book bigger budget clients.
• Book more clients on the spot.
• Raise their rates….and get it!
• Spot price shoppers early, and feel confident saying no when it's not a good fit.
• Communicate their value and stand out from the crowd.
• Never discount again!
Become an ambassador for this program by promoting it on social media and through using your e-mail lists, and earn $100 for every referral who enrolls! Registration ends December 13th, get started here.

Meghan Ely is the owner of wedding marketing and wedding pr firm OFD Consulting. She is the exclusive wedding pr blogger for The Knot, a WeddingWire expert and is a highly sought after speaker in the wedding industry. She loves ruffle table runners and Royal Wedding Tchotchkes. To learn how OFD Consulting can assist you with your wedding marketing and wedding pr, please contact us today