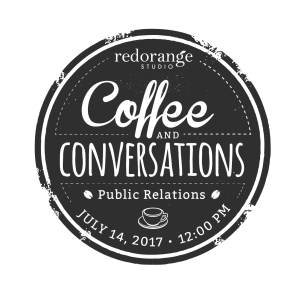 Got plans for lunch on Friday? If not, you do now! I'll be speaking about public relations at the next installment of Coffee and Conversations, hosted by RedOrange Studios, on Friday the 14th at noon. We'll be diving into some of my best practices when it comes to handling PR for small businesses and I guarantee that you'll walk away with some new knowledge. You'll learn time-saving techniques to streamline your efforts, as well as the tools that have helped me garner features in the likes of Harper's Bazaar, Apartment Therapy, PopSugar, Brides.com, and more.
For more information about the event and to register, check out the event page.

Meghan Ely is the owner of wedding marketing and wedding pr firm OFD Consulting. She is the exclusive wedding pr blogger for The Knot, a WeddingWire expert and is a highly sought after speaker in the wedding industry. She loves ruffle table runners and Royal Wedding Tchotchkes. To learn how OFD Consulting can assist you with your wedding marketing and wedding pr, please contact us today.